Transformers are electrical devices that have the capability to change or transform the electrical current and voltage that flows through them, hence the name transformer. In simple terms, they adjust the voltage from one value to another through the use of coils which creates a higher or lower output voltage. Transformers that raise the voltage (and lower the current) are called step-up transformers and transformers that lower the voltage (and raise the current) are called step down transformers. New construction sites often require a variety of voltages to feed tooling, lighting loads and power distribution. Often times the primary power feed is only one voltage, be it 3 phase 480V, 120/208V or 1 phase 240 V. Our portable transformer cart can help distribute power throughout the entire site at a variety of voltages and get the job done.
Power Assemblies has versatile transformer carts that are perfectly portable with voltage options that meet your needs. It allows for quick and easy connection to provide power practically anywhere. Do you have a request for a specific power distribution set-up? Our carts are 100% customizable to better meet the needs of your customers.
Ideal Transformer Cart Customization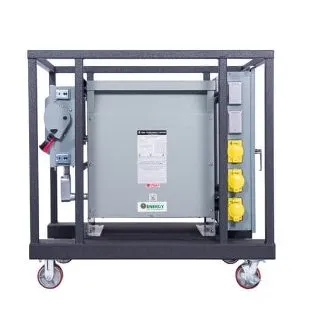 The transformer cart pictured below is equipped with a pin & sleeve input and is protected by a fusible disconnect to deliver power throughout the transformer cart. The secondary has standard 20A and 30A receptacles as well as 50A California style twist lock connections. However, your customers can customize how their cart is assembled. We offer different input variations such as series 15 or 16 cams, NEMA locking connectors, 50A California style plugs, or pin and sleeve variations. That's not all, your output is available for customization as well! We offer single phase or three phase arrangements from 480V to 120/208V or 480 to 120/240V depending on the specifications.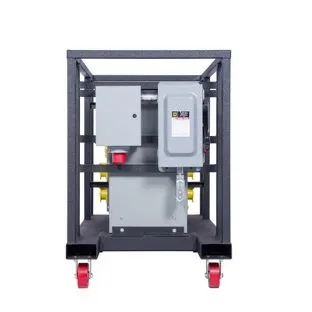 Our standard electrical panel outlets are available for customization to meet your customers' needs. In addition to our standard 50-amp twist-lock receptacles, 30 amp locking receptacles, and 20-amp with or without GFCIs, we can install panelboards with a variety of breakers on the secondary side for your ideal portable transformer cart set-up. We go above and beyond to build the perfect cart for your customers to ensure satisfaction. You can visit our online site, call us at (866)-825-8525, or email us at [email protected] to discuss pricing and the exact build you need for the job at hand. From start to finish, we've got you covered.
Our Rugged and Heavy-Duty Design
We build all our portable power products made to last in extreme commercial and industrial environments. For example, our transformer cart is strategically built with a solid steel frame at an inch and a half thick, and welded to create a strong, durable frame for years of use. This frame is powder coated and then sprayed with our extremely durable, ArmorTEK coating leaving you with an enhanced rugged texture to provide resistance from abrasions, scratches, and corrosion.
We have worked hard to ensure these products have an extremely durable frame that's also easily transportable from one location to another. The frame entails 2 rigid and 2 swiveling industrial casters for effortless maneuverability. These casters can also hold the cart in place during transportation with their braking mechanism. We have added standard forklift skid pockets to simplify lifting the transformer cart into a truck or warehouse. Moving these carts from one location to another will not be an issue.
Visit our online site to view the available variations of our ideal, portable transformer carts. Call us at (866)-825-8525 or email us today at [email protected] with any questions. We're happy to assist you.