New Construction requires a great deal of planning and permitting before workers can start hammering away. One of the initial requirements needed for a new construction site is to provide a safe and reliable temporary power system for construction workers to use daily. Generally, all new construction sites are going to require access to electricity to provide power to the general contractor's mobile office trailers during the course of the project.
Field electricians and construction workers will also need access to reliable electricity for lighting, power tools, welding and other small equipment, ventilation fans, and more. When factoring in all these requirements that come into play, we are faced with the question – what type of temporary power system is best for the job at hand?
Temporary Power Systems
There are two standard ways to provide a temporary power system – generator hookups or temporary power poles tapped into utility lines. Prior to choosing which method is best for a new construction site, one should weigh the importance of time allotment and the cost of the project.
Portable Power
If there is limited time available to construct a temporary power system, it may be best to rent or buy portable power equipment such as generators, type-w generator cables, spider-box locking cables, and power distribution boxes. With this setup, the generator will be the main source of power. The main generator will deliver power to the mobile trailers and provide accessible 20, 30, and 50-amp outlets to string out to temporary power distribution centers around the entire job site with the help of our spider box locking extension cables.
Power Assemblies manufactures all the necessary portable power equipment to install a generator for this type of temporary power setup. Our innovative power solutions bring value to our distributor's customers as these products take up a very limited amount of space and can easily be stored away at the end of each workday. When the job is complete, your customer can use the same Power Assemblies products on the next job which saves time and money on future projects.
Utility Power
On the contrary, if construction has not begun and time and money are not an issue, there is an alternative. This solution will require heavy-duty equipment such as a backhoe or an excavator to be present. This is a great temporary power solution for long term jobs that will take up to 12 months or longer to complete. Although, it is important to note that this process will require more material, labor, and strategic planning.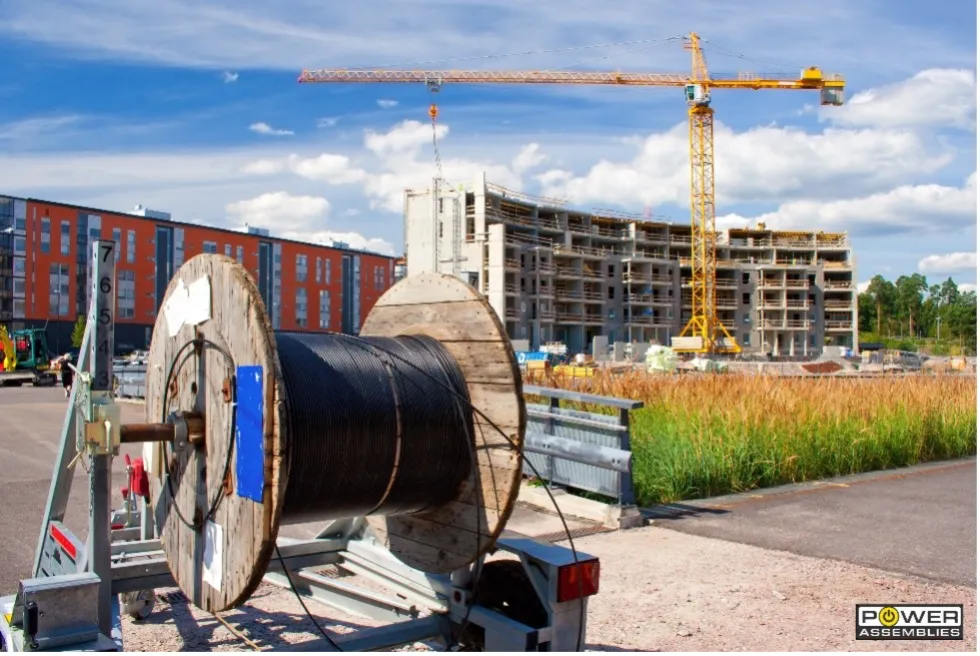 How It Works
The setup of this temporary power system begins by digging a trench that starts no less than 65 feet away from the local utility pole on the job site. This trench will be dug out all the way to the designated location of the new temporary power system.
In that trench, an electrician will run the appropriately sized conduit from the new temporary power system to the temporary power pole that is set 65 feet away from local utility pole.
Next, the trench will need to back-filled with dirt so the electricians can pull the appropriate wire needed to supply sufficient power from the temporary power pole to the new temporary power system's meter-can.
After the wire is pulled, both systems will need to be wired correctly according to national electric code and grounded properly. Next, the city will need to perform an inspection. If the inspection is passed, they will notify the local utility company to finish the connection to the utility pole's transformer.
The meter-can on the new temporary power system will measure the consumption of power that is pulled from the utility line each month, so the local utility company can bill the user appropriately. The meter then feeds the electrical distribution panel that is often equipped with camlock, twist lock and pin and sleeve connections, which provides safe and reliable temporary power for the construction site.
The Choice
After the job is completed, the conduit and wire left in the ground become a sunk cost. However, if the job would have used portable power products manufactured by Power Assemblies, the contractor can make use of these products repeatedly on jobs to come. The choice between a portable power and utility power system ultimately comes down to the amount of time, money, labor, and flexibility required to provide power until the job is complete.
Visit us online to view the temporary power products we manufacture to assist new construction jobs. Call us at (866)-825-8525 with any questions you have about our portable power products and we will be happy to assist you. Click here to become a Power Assemblies distributor today to begin providing our innovative power solutions to your customers.