Defining Efficient Electrical Manufacturing
Electrical manufacturing productivity will either propel you to success or leave you drowning in a sea of competitors. Manufacturing efficiency can be defined as the quality and effectiveness of each step in the manufacturing process to produce the best product possible. Achieving ideal manufacturing efficiency is a never-ending process, and our team works every day to improve systems and surpass progress made the day before.
Achieving operational competence comes with many benefits, such as decreased production costs, speedy production times, and increased customer satisfaction. It's unsurprising to learn that the electrical manufacturing industry can be cut-throat. Everyone wants to be the best, so how can you beat the competition? This article will highlight the importance of elevating your company culture, streamlining workflows, and perfecting product scheduling.
Power Assemblies is an American manufacturer of top-notch portable power gear. From fabrication to shipment, everything that we do revolves around our distributors. Only the finest materials are used to construct our equipment, so all our products are built to last! We offer a huge variety of electrical supplies, and we specialize in custom fabrications if your customers need anything that isn't present on the market you can learn more about our machining services by clicking here.
Streamlining Electrical Manufacturing Processes
Streamlining manufacturing processes and workflows allows you to remove unnecessary steps that bog down productivity. When streamlining your team's workflow, start by analyzing current processes. Identifying sticking points such as bottlenecks, redundancy, and other areas of inefficiency will give you a clear view of where you can make the most impactful improvements.
A few simple examples of streamlining might include eliminating unnecessary steps, reducing handoffs, and integrating automation wherever possible. Spotting and correcting these inefficiencies will put you on a path to victory!
Our methodology for building our Cable Assemblies is an excellent illustration of how we incorporate streamlining into our manufacturing processes. Over 30 types of Cable Assemblies are manufactured in our facilities, such as 50A Spider Box Locking Cables, Banded Camlock Sets, and Type W Generator Feeder Cords. Our fabrication team understands that success is dependent on all players working at the top of their game. We stay focused throughout the day and perform each process with care.
Preparation is key when it comes to creating our Cable Assemblies. Before beginning to build an Assembly, we make sure that our stations are fully stocked with all the tools and parts necessary to complete an assembly. This helps us to avoid wasting time rummaging through the inventory to find components. Ensuring that all steps in our fabrication process are consistent and organized maximizes efficiency to stay ahead of schedule.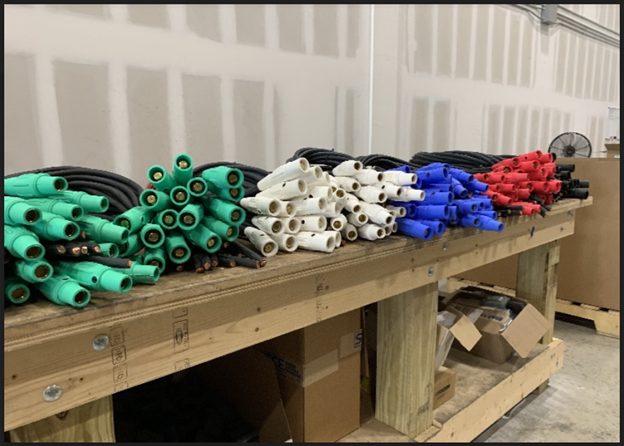 Enhance Electrical Manufacturing Schedules
Product planning and scheduling are procedures that allow a business to decide what products they should produce, in what quantities, and on what schedule in order to satisfy customer demands. Product scheduling involves creating a detailed and strategic timeline to triumph under tight deadlines. This includes choosing start and end dates for production runs, as well as allocating resources such as labor, materials, and machinery.
Creating our custom builds, such as the 3200A, 277/480V Tap Box pictured below demands us to be on top of our game in order to ship the completed product on time. From the moment our engineers begin drafting a blueprint, our team knows that we must have mastery and control over all processes. Each step is meticulously planned to ensure that it's executed with as much precision and efficiency as possible.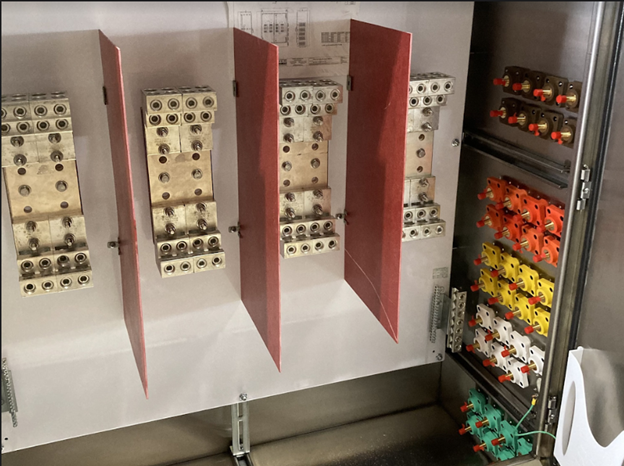 Company Culture Influence on Electrical Manufacturing
Cultivating a prosperous company culture means promoting open and effective communication across all departments. Successful communication helps to minimize misunderstandings, helps prevent errors, and build confidence for members of the team. An empowered team shares a sense of purpose and unity that creates an environment where everyone feels motivated and inspired.
Engaged and motivated employees are proactive with their tasks and are prepared to go the extra mile to help the team achieve their goals. A shared vision and effective communication enable individuals and teams to work together seamlessly, reducing conflicts and enhancing overall efficiency.
The Power Assemblies family believes in the power of teamwork. We collaborate by pooling all our knowledge and skills together to effectively solve problems and create innovative ideas that will keep us on the cutting edge of our industry. By tapping into our collective strengths, we achieve higher levels of success, innovation, and sustained growth than we would be able to achieve individually. We demonstrate teamwork through our ability to complete large projects in short time frames. It requires everyone to work together so that we can win as a team. We must work as one fluid unit to avoid errors that could disrupt the progress needed to complete a large order.
Power Assemblies strives to be the go-to resource for electrical suppliers across the globe. Our mission is to create revolutionary portable power solutions and provide customer service that makes our distributors feel like family. If you're interested in becoming a distributor or would like to request more information, please contact us at (866)-825-8525 or email us at [email protected].