Power Assemblies has been providing distributors with some of the most popular and versatile portable power cables for quite some time now. However, the version of our Banded Cable Sets that you see today is not what it once was. Our most current banded set model is the result of years of research and development that has allowed us to provide our distributors with high-quality products that perform and outlast. Our original 5 Wire Banded Type SC Stage and Lighting Cable Sets have become a staple among those in the entertainment industry who rely on portable power to get the job done right every single time. These banded cable assemblies are predominantly used in the entertainment and construction industries in order to connect temporary power loads to generators and power distribution equipment. 
Since we've opened our doors, we've always worked hard to continue evolving our products in order to offer our distributors the best quality power solutions for their customers. The Banded Cable Assemblies are one of the products that our team has worked very hard to perfect. They've stood out from the rest particularly because of their green, grounding conductor cable. Until now. The growth in demand for this product has opened our eyes as a company to ensure that we're providing customers with a power solution for their problems in a reasonable amount of time from production all the way to consumption.
As we all know, supply chain stock shortages have been the root of most suppliers' problems in recent times. Although, the Power Assemblies team wants you to know that we've been constantly innovating to minimize these issues and make sure our customers are satisfied and are receiving the absolute best service possible. Instead of accepting these unfortunate logistical setbacks, we've found a way to harness methods that we can control, and made the changes necessary to ensure that moving forward, an abundance of our banded cable sets would eliminate any and all order delays. Every distributor that places an order for this product will receive it in the time promised.
You might be thinking that quality had to be compromised in order to find a solution to this problem, but we can assure you that is not the case and that quality is in fact, one of our top priorities at Power Assemblies, and that will never change. We've decided to begin manufacturing our 5 Wire Banded Sets with (5) black cables and eliminating the green jacketed cable in order to create a uniform product and maintain a steady supply of stock that will no longer be in danger of shortage. Our cable assemblers will continue to use phase matching camlock connectors that allow the user to identify the operating voltage and help determine which cable is which. The green connector that is attached to the cable indicates that it's the grounding cable, whereas the white camlock indicates it's the neutral, and the (hot) phases are black, red, and blue.
Developing and Building The Banded Cable Sets
Power Assemblies is committed to making progressive adjustments and is always open to integrating new technology to remain one step ahead of the future changes that may impact the temporary and emergency power distribution industry. As these industries continue to evolve, it's necessary to adopt a heightened sense of awareness when it comes to the progression of technology in order to continue offering the best possible portable power products.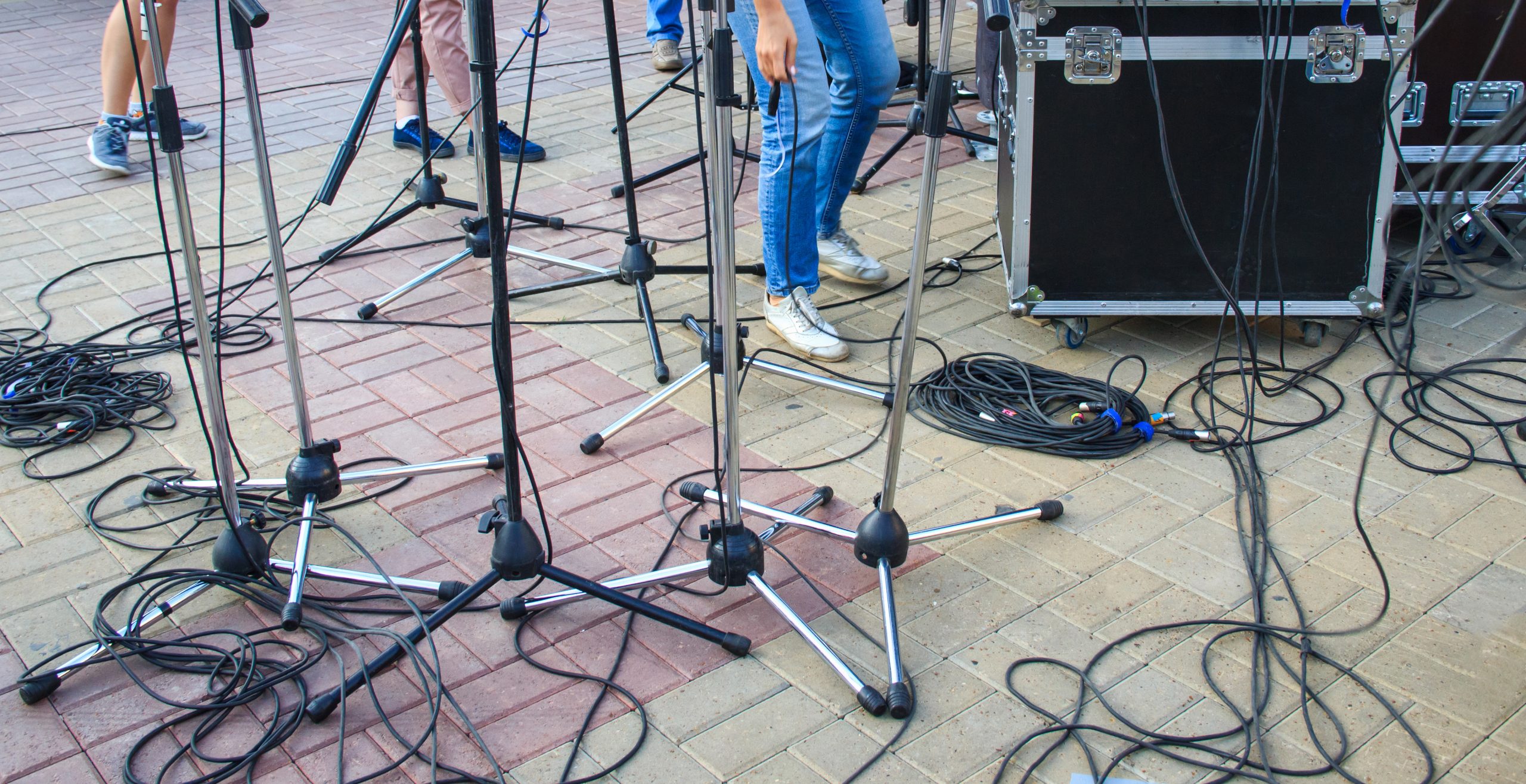 Our Type SC, Stage and Lighting Banded Cables are used extensively in the entertainment industry, where environments are often fast-paced, chaotic, and not necessarily organized. Before we began manufacturing the SC cables as banded sets, the large, individual cables were an inconvenience that often end up tangled and knotted. The hassle of untangling, separating, and connecting the cables properly in addition to the safety hazards posed an increased risk of injury. We quickly realized that this would need to be one of our top priorities to address, which allowed us to finally develop the 5 Wire Banded Cable Sets. Designed for safety and ease of use, each set of cables are banded in groups every 24 inches (2 ft) to save you the time and energy it would take to detangle and arrange the cables properly. The assembly consists of (4) #2 gauge stage cables, and (1) #6 gauge ground cable.
How To Safely Integrate Banded Cable Sets
Anytime you plan on working with electricity, Power Assemblies highly recommends that you always contact a licensed electrician before making any adjustments to your electrical system. Before connecting any cables to a circuit, the power should always be turned OFF at the breaker. Otherwise, you are putting yourself at risk of electrical shock and possible electrocution.
When connecting cables, you should always start with the ground cable first. Never connect another cable to a circuit if the electrical system is not properly grounded. The next step is to hook up your white, neutral wire. Lastly, you can connect your three phases (hot legs). Even if the breaker is turned off, you should always handle electrical components as if they were energized. This is a habit that we teach all of our employees at Power Assemblies and we encourage you to do the same.
If you have any questions regarding our portable power products after reading this blog, you can contact our team at [email protected] or call us directly at (866)-825-8525. We've also gone ahead and posted a YouTube video below that shows you the correct way to connect generator cables to and from a power source. Power Assemblies will continue implementing a standard of operations and procedures that allow us to continue to supply our distributors with the most innovative and highest quality temporary power products on the market today.