Copper may not be a precious metal, but for those of us involved in the electrical and temporary power business, it sure feels like one. In recent months, copper prices have soared to an all-time high for the first time in over a decade, breaking new records for the metal in recent years. The red metal has peaked at $4.83 per pound on May 11th, 2021.
Power Assemblies is working to combat these efforts by keeping a stock of copper wire to build our portable power cables and provide stock for our vendors and partners while supply continues to deplete around the globe. By keeping a stock of copper for our partners, we can offer a more affordable price for our portable power products to our distributors as copper prices continue to rise. Power Assemblies also offers repairs for your existing cable assemblies, turning your used cables into "like new" condition – saving hundreds of dollars per cable assembly. For example, a 50' type W assembly can cost over $300 new, whereas replacing broken ends on a used assembly costs about $75!
No one knows for sure where the copper will be in the future, but the consensus is that prices will be much higher. If your customers have an upcoming job that requires a substantial power supply from copper wires and cables, Power Assemblies recommends stocking up on copper wire and cable now, before prices rise significantly higher than the previously quoted job – resulting in an economic loss for your customers. One of the world's largest copper mines in Chile has cut back on production which has resulted in bringing less copper ore to market. As the supply in our South American mines continues to fall short, the demand for copper in our industrial markets continues to expand, therefore pushing the price of our precious conductor even higher. As you can see in the graph below, in just 30 days alone, London Metal Exchange copper stocks have diminished by over 60,000 tons and are currently trading at $10,212 a ton as of May 14th, 2021.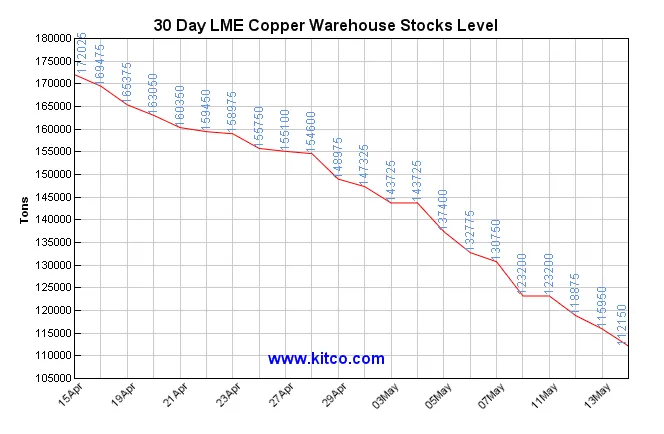 As raw materials continue to dwindle, the staff at Power Assemblies will continue providing our innovative products and services for our distribution partners. If you're in the market for Portable Power Copper Cables in the near future, visit the Cable Assemblies section of our website – PowerAssemblies.com. Our power cables are available at hundreds of electrical distributors throughout the entire United States. You can contact us today at [email protected] to request a quote for any of our portable power products – our team will respond to your request as soon as possible. We recommend staying ahead of the copper curve and purchasing your power distribution products before prices rise beyond belief.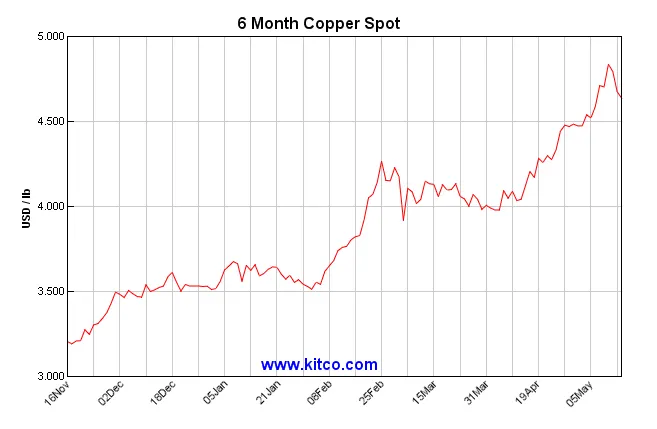 In just 6 months alone, the price of copper has climbed from a low of $3.20 per pound in November of 2020 to an all-time high of $4.83 in early May 2021. After analyzing the market demands and the supply shortages, it seems these macroeconomic factors will continue to have a harsh impact on industrial sectors that have a high demand for copper. With the effects of Covid-19 lingering along with the low productivity rates at our largest copper mines, it appears that these elevated copper prices are here to stay for a while. In the meantime, we will continue to wait for our leading copper mines to put forth the required resources and necessary investments to keep up with worldwide copper demands and alleviate inflated copper prices.