Utility power fails and you want to get power back up as soon as possible, but how? Well, You'll need a portable or standby generator, a transfer switch, and one of Power Assemblies' generator quick-connect boxes like our Camlock Connection Box (CCB) or the astonishing Generator Docking Station (GDS). We've engineered both boxes to provide consumers with a portable, quick-connection input to connect your generator using industry-standard series 16 camlock connectors to get the power back on within minutes. You must be thinking – "What's the difference", right?
In this blog, we will explain the core differences between our CCB and the GDS along with some of the similarities, benefits, and why you just might prefer one over the other. You see, both boxes have been designed by Power Assemblies engineering experts and incorporate the most durable materials to ensure structural integrity. Our standard CCB & GDSs are assembled using a carbon steel enclosure, but custom-engineered solutions are available in different sizes and material types such as stainless steel. If you need a custom-engineered solution you can visit our product configurator and build your own box in minutes, and then just send it in to our engineering team to receive a quote. For questions on any of our standard boxes, you can email us directly at [email protected] or call (866)-825-8525.
CCB Vs. GDS: What's The Difference?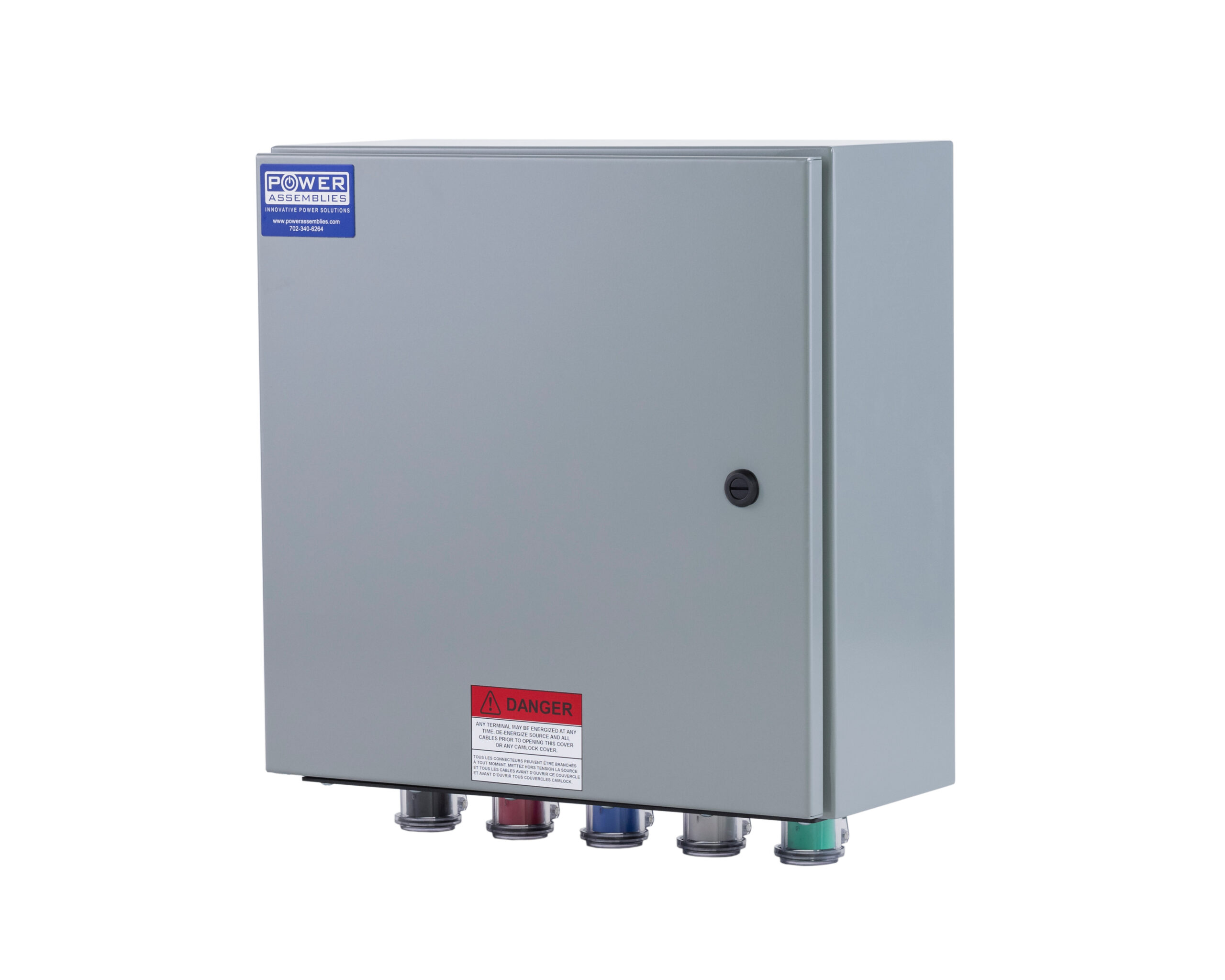 Both the Generator Docking Station and Camlock Connection Box are wall-mounted NEMA 4/12 rated enclosures built from carbon steel. The CCB is available in 2 major different configurations – with camlocks installed on either the bottom or the side of the enclosure with 90° or 45° camlock connectors. The connection types for these cams are available in either double set screw or threaded-post termination, which are located on the inside of the box to connect to your internal electrical system. The CCB is an essential portable power box for smaller temporary power connections ranging from 400-800 Amps. It's built with all UL-Listed components and can provide lasting temporary and emergency power in practically any environment.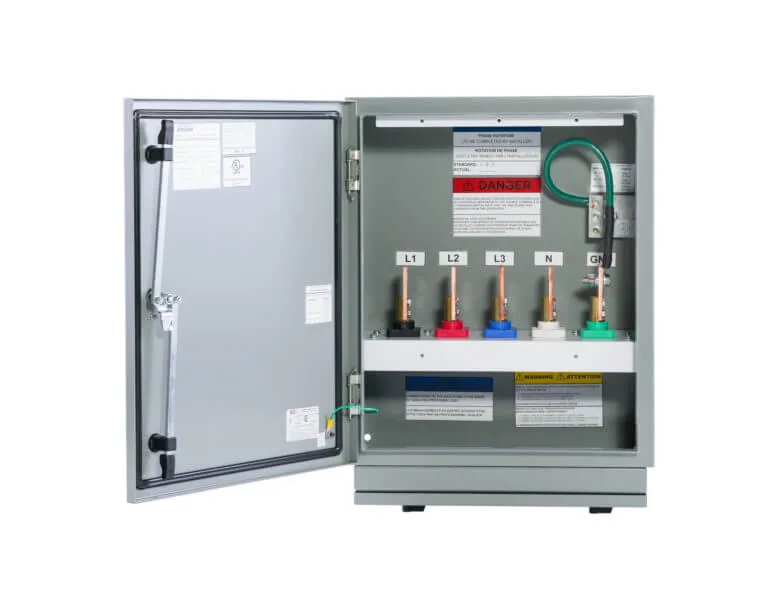 The Generator Docking Station, however, is a lockable enclosure that has all of its camlock connectors located inside the box to prevent any damages or theft. Our Mini and Standard GDSs are equipped with 90° Busbar camlock connectors, whereas the large GDS is built with 45° Bus-bar cams on the right side of the box, hidden behind a pad-lockable compartment. The GDS is a bit more heavy-duty than its counterpart. It's built with all UL-listed and CSA-approved components and equipped with a dead-front to provide further precautions against damage to the electrical terminations inside. The GDS has been rigorously tested through Underwriters Laboratories, awarding its UL-Listing certification. If your project requires UL-listed products, then the Generator Docking Station is the box for you.
Both enclosures are essential temporary power components that will fit right in with your current electrical distribution system. The installation of the CCB or GDS allows for a more intuitive and simple connection. Once installed, our temporary power boxes allow those with little to no electrical experience to connect their generator to the docking station safely using color-coded cables that identify exactly where each phase should go.
What Are the Benefits of a Temp Power Box?
Emergency Power: Having the luxuries of a generator combined with a transfer switch and docking station means less downtime when utility power fails. If this is an emergency or life-safety situation the circumstances could make for a fatal outcome if power is not restored as soon as possible.
Cost-Savings: When utility power fails, productivity and efficiency are adversely affected. A quick temporary power connection provided from our CCB/GDS means you'll get power back much quicker, which can save you thousands of dollars.
Maintenance: If your business is equipped with a permanent standby generator, then a temporary power box with camlock inputs can easily be utilized with a mobile generator while your main generator is being serviced.
Plug and Play: Once installed, it's as simple as plugging your generator cables into the color-coded receptacles that mark the hot legs, neutral, and ground.
All of Power Assemblies' temporary power boxes and enclosures are built with a specific purpose – to serve the consumer's temporary power needs safely and effectively. We've developed a line of innovative power solutions that have made a name for themselves over the years simply by out-performing in the field. If you're looking for temporary or emergency power solutions, click here to find a Power Assemblies Distributor near you, or simply ask your local distributor to give us a call to set up an account. You can reach us at (866)-825-8525 or email us directly at [email protected]. If you have any questions regarding our Camlock Connection Box or Generator Docking Station after reading this blog, please don't hesitate to contact us as our team is happy to explain the dynamics of any of our portable power products. Our engineers are eager to take your call!